آموزش حقوق بشر در ایران، سخنرانی در FIU
در این سخنرانی، به آموزش حقوق بشر در قالب نهادهای دولتی و غیردولتی، با تأکید بر دانشگاه مفید، پرداخته شده است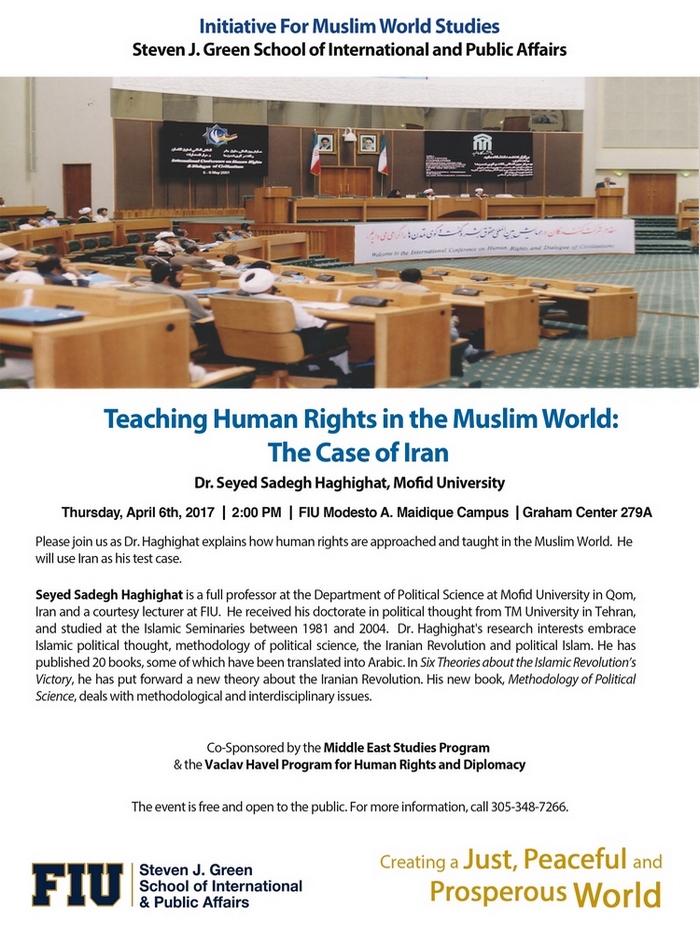 Teaching Human Rights in Iran
Florida International University, SIPA, April, 6th, 2017
1) High Council for Human Rights
(The Judiciary of I.R.I)
2) Iranian Islamic Human Rights Commission (NGO)
Some Activities
- Establishment of human rights and humanitarian Law workshops
- Publication of the specialized bulletin titled "The Latest on the International Humanitarian Law"
- Holding educational workshops under the theme of international humanitarian law
- Panel discussions and academic seminars
- Providing advisory opinions to the parliament and other governmental bodies
3) The UNESCO Chair for Human Rights, Peace and Democracy (Beheshti University)
•The UNESCO Chair for Human Rights, Peace and Democracy (UNESCO CHRPD) of Shahid Beheshti University (SBU) was formally established in the SBU Faculty of Law in spring 2001, following a Memorandum of Understanding signed between UNESCO and SBU. This chair is the sole chair for Human Rights, Peace and Democracy in the Persian Gulf Region.
•The establishment of this chair provided the grounds for the formation of the center for Human Rights, Peace and Democracy, and interdisciplinary studies in the SBU Faculty of Law. This center initiated its activities with the Human Rights educational and research group and, later, with four other groups (Peace, Democracy, Philosophy of Law and Religion, and Bioethics).
•In addition, in order to provide people in need with legal support, this center has developed Legal Clinics for women and children in February/March 2008
4) Mofid University (1988)
Founding Goals:
A.Studying and researching Islamic sciences, and reviewing the
humanities on the basis of Islamic principles and standards.
B. Paving the way for expanding academic research activities in the
Islamic world and evaluating existing research in both Islamic
sciences and the humanities.
C. Training distinguished and qualified researchers-theoretically
and practically - and present research results to universities and other similar
research institutions concerning various socio-cultural aspects of Islamic nations.
http://www.mofidu.ac.ir
5) Center for Human Rights (Mofid University)
Goals:
- Human rights knowledge with an emphasis on interdisciplinary studies
- Islamic human rights studies
- Relationship between human rights, religions, and civilizations
- achieving common human rights, such as justice and world without violence
Solutions & Tactics
• Human rights as a discipline
• workshops
• (Biannual) Conferences at Mofid University
• International conferences (about 70)
• Magazine
• Researches
• Special library for human rights
• Legal Clinic
• Sabbaticals, short-term teachings, and …
Conclusion
Two Approaches Facing HR.:
1) Compatibility of HR. and Religions / Dialogue between Civilizations/Islam= peace & submission /No offensive jihad / Roots of human rights in religions & history/ Teaching Human Rights for human beings
2) Incompatibility of HR. and Religions / Clash of Civilizations/ Islam= submission / Denying roots of human rights/ Teaching human rights for political purposes