آیینه های شاهی: سنخ شناسی متون سیاسی اسلامی (سخنرانی در FIU)
آیینه های شاهی، بر خلاف فلسفه سیاسی و شریعتنامه، چندروشی هستند، و به هدف تحکیم قدرت حاکمان به نگارش درآمده اند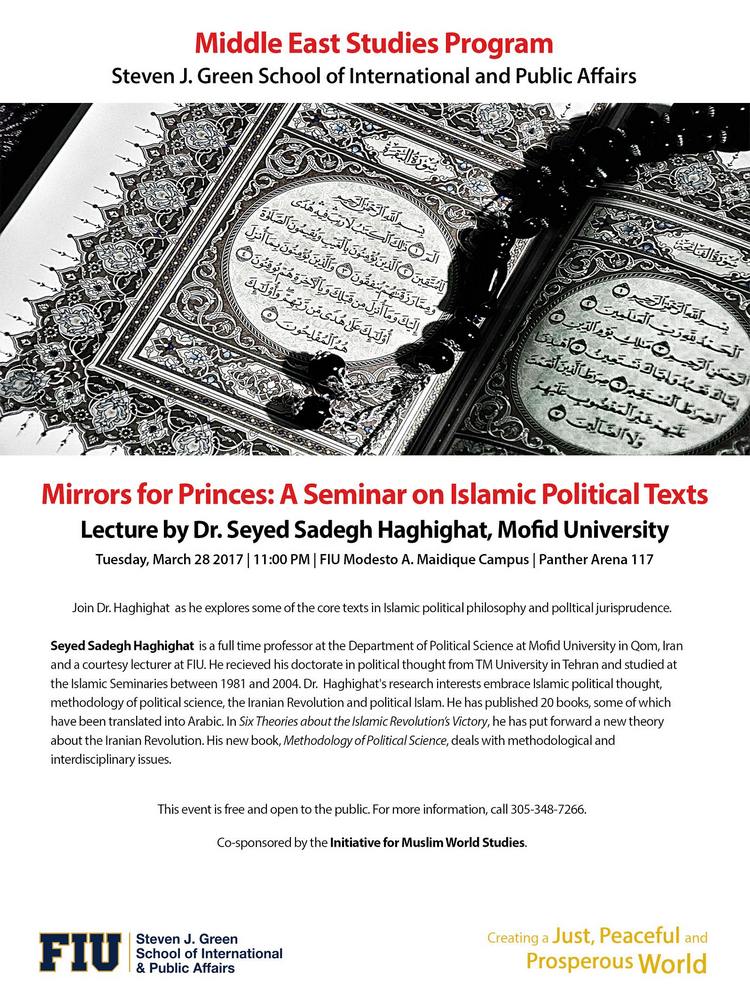 Mirrors for Princes
"Mirrors for Princes" are common texts in the Iranian and Islamic heritage distinguished from political philosophy and political jurisprudence (political fiqh). They are categorized into two major groups: the ancient Iranian mirrors for princes and the ones dedicated to the Islamic era. Although somehow differences can be observed between the two, both of them have similar political literature and logic. Among the first group, "Nameh Tansar" (Tansar's Letter) and "Ahd Ardeshir" (Ardeshir's Advices) are considered as the most prominent mirrors for princes in ancient Iran. Ibn-Moqafa has translated the first one from Pahlavi to Arabic, though, none of them is available now. The second book is Ardeshir's advices to his rulers in the Iranian empire. I will focus on Ibn-Muqaffa's works, Nizam al-Mulk's Siasatnameh and Marzban nameh.
The problem with Iranian mirrors is that we have them only in manuscripts dating from the Islamic period. Although we have no means for independent verification, the way of content analysis is open to us. It seems that the appropriate methodology in this regard would be discourse analysis (analyse du discours) to compare the content of the two kind of mirrors, and Focault's genealogy to discover the relationship between knowledge and power.
E. I. J. Rosenthal in Political Thought in Medieval Islam has presented the trinity of political philosophy, treatises on legal institutions or political fiqh, and mirrors for princes. While philosophers debate the scope of human reason, the ideal society and how to attain it and the nature of revelation, jurists argued how to interpret sharia, Islamic law, to govern private and public life. The mirrors for princes instruct kings, especially the young ones, on certain aspects of rule and behavior to reinforce their power. Although Rosenthal name three kinds of political texts in medieval era, it seems that the essence of mirrors is different from political philosophy and political fiqh. Mirrors may rely on reason, fiqh, narrations, fables, history and so on. In fact, the aim of mirrors, i.e. reinforcing power, is important, not their style and method. There is no similarity between Ghazali's Nasihat al-molouk, Maverdi's Nasihat al-moouk, Nizam al-Mulk's Siasatnameh and Mirza's Ershad nameh except in their purpose. For this reason, we can differentiate between Ghazali's Ihya ulum al-din and his Nasihat al-molouk, since the first is a religious book, while the second is a kind of mirrors for princes. He has argued in his mirror: "God has chosen two kinds of people: prophets and kings. According to the narrations, kings are the shadows of God on the earth, so we should like and obey them. The holy Quran says: Obey Allah, the messenger and those in authority (Qur'an 4:59) ".
In most ancient Iranian texts, kingship is considered as the aura and as a gift of God. For example, Ardeshir Babakan's Naqsh-e Rostam inscription illustrate a bas-relief of Ardeshir riding a horse in front of Ahura Mazda, who is also riding a horse and delivering the symbol of the kingdom to Ardeshir. A stone inscription above Ardeshir's horse reads in three languages, "Ardeshir is king of kings of Iran who is blessed by God. (He is) the son of Babak Shah." Aura (farra) is derived from "Xvarenah". "hvare" means the sun, and the verb "hvar" means to lighten or to glory.
Islamic mirrors are not just the continuous of the Iranian ones. Although Islamic mirrors were influenced by the Iranian ones, based on the confluence between text and context, they should be interpreted in their social and political context especially in regard to the inter-relationship between power/ knowledge /religion